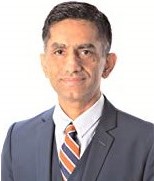 MUBASHER FAZAL, MD
Sleep Medicine
Dr. Fazal attended medical school at Allama Iqbal Medical College in Pakistan (1994) .
He completed his residency at University of Pittsburgh MC - McKeesport 1999.
Dr. Fazal is board certified in Sleep Medicine and Family Medicine.
He is the author of the book "Keep it Simple Diet, Sleep, Exercise".
Dr. Fazal has a special interest in the relationship between sleep and weight.